WSA GLOBAL AWARD
WSA selects and promotes local digital innovation improving society. It is a non-monetary award system with a focus on sustainable knowledge transfer through a worldwide network. Winners benefit not from a one-time financial reward, but a lifelong partnership and integration.
WSA invites all UN member states to nominate their best local digital solutions for the global award.
WSA is a nomination based award system, eligible for all UN member states.
Each country has a national WSA representation – the WSA National Expert. The WSA national experts are carrying out the local pre-selection for WSA, through national contests or national expert panel selection. To participate in WSA, you need to be nominated by a WSA National Expert as the best national digital application in one of the 8 categories.
Each country is eligible to nominate one project/solution per WSA category.
Please note that a country's local deadline for application may vary from the WSA Global deadline.

Are you under the age of 26? You may want to also consider to apply for the WSA Young Innovators!
WSA categories reflect the UN WSIS action lines and are updated regularly to meet the development of the UN Goals. For the edition of the WSA 2023 the categories are: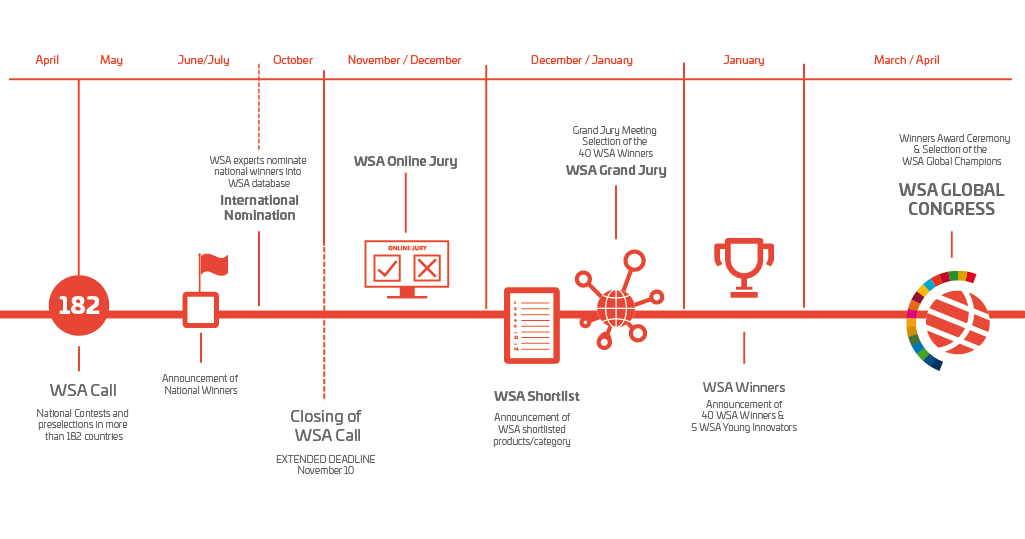 WSA looks for digital applications that have a strong impact on society in one of the 8 WSA categories. WSA focuses on content depth, strategic value and local impact of a product.
By submission of a project, producers accept the rules of the WSA contests as stated on the WSA RULES & CONDITIONS page.
All submitters to WSA have to abide by the rules and regulations mentioned in the UN Declaration on Human Rights. Submissions which encourage war, the exercise of violence, fraud, racism or discrimination will therefore not be accepted and eliminated. Similarly, submissions that violate international copyright provisions will be excluded.
WSA cannot be held liable for accepted submissions and their contents and rights.
Please click here to access to the complete terms of the WSA RULES & CONDITIONS
Combining an ongoing series of international events and activities with a global network of start-ups, social entrepreneurs, mentors, jurors, speakers, experts, government leaders, academia and civil society, WSA is an international platform for cutting edge examples on how ICTs can have an impact on society.
Founded in 2003, WSA has become a quality seal for digital content with societal impact in over 182 participating countries.
Learn more about the WSA benefits for Winners and Nominees
1
Write a mail to the WSA office to be introduced to your WSA National Expert. Your National Expert will guide you through the local steps needed to apply for WSA.
Some countries also offer application through a national contest or other forms of application.
2
Your project will be reviewed and evaluated by the WSA National Expert if it meets the eligibility criteria and standards of WSA. After careful evaluation, the WSA National Expert will decide if they wish to nominate your project for WSA, based on innovation, local impact and quality.
If your project is nominated in one of the WSA categories, your WSA National Expert will enter your data in the WSA Contest Database. Please make sure to provide your WSA National Expert with valid contact data.
3
Upon nomination, you will receive a confirmation email inviting you to complete your application. Please make sure to check your spam folder.
After submitting your application, you are officially enrolled in the global WSA.
A specially assembled international Jury will then evaluate all nominated and completed projects and choose the 40 WSA winners of the year.
> Learn more about how to apply for WSA!
> Learn more about how to apply for the WSA Young Innovators!