THE NEW ERA OF WSA
WSA - A new look. A new Era.
17 years of history, countless initiatives, outstanding events - WSA is foremost a global community of purpose driven people that utilize technology for the greater good. WSA has over the years moved way beyond a mere award, it has become an initiative of a worldwide community of entrepreneurial minded change-makers. With multiple events and initiatives, WSA wants to also reflect this in a brandname without the focus on awards. Honoring and reflecting this community and what WSA stands for, it became time for a new look.
We are very happy to present you the new design of WSA. To reflect the overall aim and goal to promote and support digital purpose driven innovation, the new WSA Logo presents not only the colors of the UN SDGs, it also reflects the overarching, worldwide community that WSA is.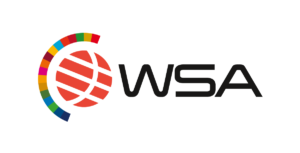 Global. Digital. Purpose Driven. - The new tagline.
The new WSA tagline conveys what WSA does - reflecting the who & for whom, the how and the why. WSA is global in terms of diversity, reach, community, perspectives and challenges. Digital in terms of digital content, innovation, applications and the ethical use of technology. Purpose driven in terms of the clear intent to utilize digital means to improve the world and reach the UN SDGs.

So what will change?
The challenge is and remains worldwide: Hack the worldwide gaps and achieve the UN SDGs. WSA's mission focusses on selecting, promoting and connecting purpose driven digital innovators, which want to contribute with digital technologies and smart content to close the diverse gaps – on a worldwide level.
To reflect this, the WSA re-branding entails:
Reflection of the UN SDGs
A refreshed look and feel
New initiatives and services
A global community united under one brand
Simplifying but keeping the diversity
One umbrella for all initiatives
The evolution of WSA logo