UN CONTEXT
WSA (World Summit Awards) was initiated in 2003 in the framework of the UN World Summit on the Information Society (UN WSIS) held in Geneva. The declared aim of the conference was to make Information and Communication Technology (ICT) accessible to everyone and to bridge the digital divide. WSA was established as a means to achieve this and have been working to put UN-WSIS goals and UN SDG's into action ever since.
WSA AND UN SUSTAINABLE DEVELOPMENT GOALS (UN SDGs)
With a truly global multi-stakeholder community, combining the voices and insights of entrepreneurs and producers, national and corporate experts, NGOs, governments and professional associations, WSA encourages a real knowledge community to reach the UN Sustainable Development Goals. Fostering knowledge exchange and a network of global support, WSA presents quality content and digital innovation from over 180 UN-member states and supports the global movement for sustainable digital solutions.

WSIS CONTEXT
WSA keeps a close strategic association with United Nations agendas. By reporting national digital developments to the UN WSIS process, it supports the UN Sustainable Development Agenda.

WSIS ACTION LINES AND THE INTEGRATION IN THE WSA AWARD SYSTEM
WSIS Action Lines
C1. The role of public governance authorities and all stakeholders in the promotion of ICTs for development
C2. Information and communication infrastructure
C3. Access to information and knowledge
C4. Capacity building
C5. Building confidence and security in the use of ICTs
C6. Enabling environment
C7. ICT Applications: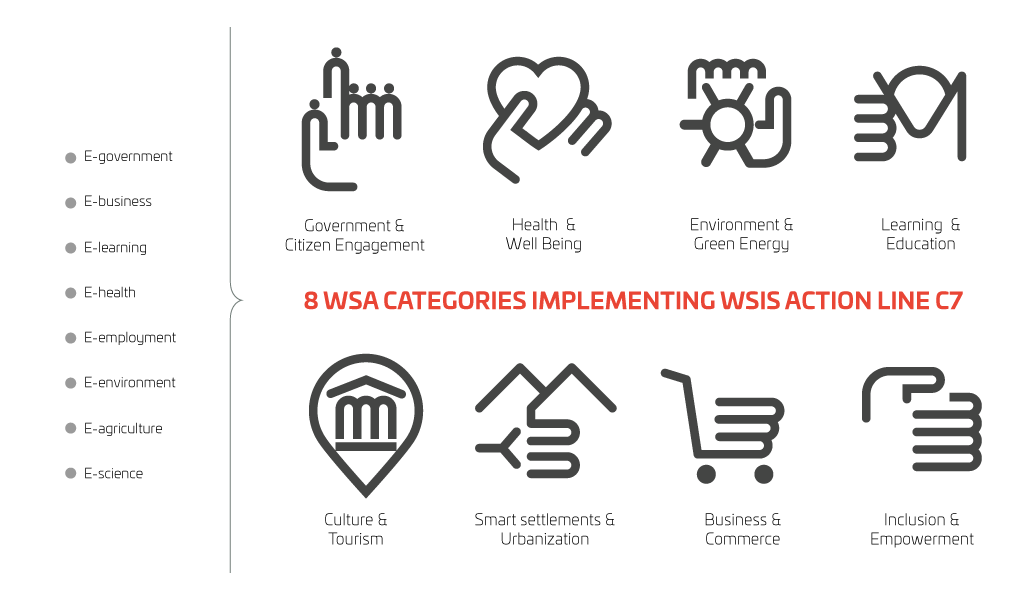 C8. Cultural diversity and identity, linguistic diversity and local content: World Summit Award awards local content and accepts applications in all local languages
C9. Media
C10. Ethical dimensions of the Information Society