WSA India National Contests
WSA India is executed through WSA strategic partner Digital Empowerment Foundation (DEF) and its institutionalised awards. There are f four awards (Manthan Awards,mBillionth Award,eNGO Challenge Awards, Social Media for Empowerment Awards) serving as a subset for the WSA India's nominations.
Manthan Awards

The Manthan Awards try to demonstrate to every stakeholder the existing range of creativity and excellence in the use of ICT tools and communication networks to bring about socio-economic development and empowerment of women, people with disabilities and other marginalized sections of society. They seek to highlight best practices in social and financial inclusion brought about by the use of digital tools and media. Over the years, the awards have substantiated DEF's conviction that all those who are engaged in ICT interventions for development can benefit immensely from access to networks and ICT platforms such as the one represented by the Manthan Awards. The Manthan Awards have also enabled DEF to bring to light case studies that show what changes must be brought about in the way markets operate and governments act to make such ICT interventions for development economically sustainable.
MORE INFORMATION ABOUT Manthan Awards
mBillionth Award

With the rapid increase in penetration of mobile technology across almost all socio-economic strata around the world, the mobile phones have emerged as the most powerful digital tool for empowerment across the world. This is more so in South Asia,Asia Pacifc and other parts of the developing world.
This frst-of-its kind initiative in the region, mBillionth Award recognises and felicitates innovations and excellence in development and usem of mobile applications and best practices in the delivery of mobile content and services, across eight South Asian countries — Afghanistan, Bangladesh, Bhutan, India, Maldives, Nepal, Pakistan and Sri Lanka — and 10 core categories.
MORE INFORMATION ABOUT mBillionth Award
eNGO Challenge Awards

eNGO Challenge Awards recognises nonprofits across South Asia to enable, empower and promote grassroots organisations and their impact oriented initiatives. Since its inception in 2012, eNGO Challenge has been recognising ICT initiatives across the development sector. The 2016 edition of the Challenge marks the biggest leap forward since its inception, as we have now opened nominations for development initiatives by grassroots organisations across all fields and domains. The eNGO Challenge 2016 is aimed at recognising and awarding organisations that have done exceptional development work for the masses at the grassroots level.
MORE INFORMATION ABOUT eNGO Challenge Awards
Social Media for Empowerment Awards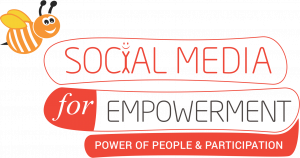 Social Media empowers you in a way it gives you a platform to communicate your perception, views, thoughts, ideas, feelings, emotions in a simple or artistic way. Not only confined to this, it is also an important approach to business that is rapidly expanding. It
acts as a bridge between the business and the consumer. Social Media is a communication channel easily accessible to nearly everyone with Internet access. Social Media has become the most promising tool for development and empowerment in the recent years, world over to promote vision, purpose, and activities; spread news; build support; attract volunteers and donors; and engage with interested segments of the population.
Social Media for Empowerment Awards greets the spirit of social media and the potential it possesses. This initiative not only focuses on and honors the best social media initiatives for the empowerment of the deprived and marginalised sections but also brings Social Media experts and government agents from 8 South Asian countries on one platform to share their best practices and success stories with participants to inspire them.