WSA GLOBAL CONGRESS VIENNA 2018
A PARTICIPATORY LEARNING CONFERENCE

INGENUITY TO SOLVE REAL PROBLEMS - FROM OVER 100 COUNTRIES

More than 700 participants from around 100 countries met in Vienna, turning the city hall into a global hub for start-ups and content developers on the subject of "Social Impact through Digital Innovation". With a focus on solving real problems, working towards the UN SDG's and evoking positive change on society, the participants of the WSA Global Congress exchanged knowledge and shared inspiration.

The World Summit Award Congress Vienna 2018 recognised the important part that digital innovation plays in creating sustainable social change and impact world-wide.
The 3 days event took place at the Vienna City Hall, hosted by the city of Vienna and organized in partnership with the federal government of Austria, sponsoring partners and strategic partners locally and globally.
WSA Global Congress Vienna featured the 40 WSA global winners in the 8 categories, as well as the 5 WSA Young Innovators and connected them with international thought-leaders, ICT experts and regional stakeholders to enable a knowledge transfer. On invitation of the City of Vienna, WSA Global Congress Vienna provided a stage for best practices and shared experience on how social innovation and entrepreneurship can be encouraged and play a key role to have a sustainable impact on society.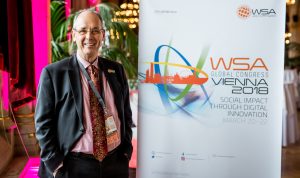 Prof. Peter A. Bruck, Chairman of the World Summit Award Board of Directors: "Thanks to the City of Vienna, we have brought this Austrian initiative to Austria for the first time and opened a showcase for products from all member states of the United Nations that make a difference. The WSA network shows that innovation comes primarily not from the pursuit of profit and quick money, but from commitment to avoid suffering and alleviate need. This results in sustainable positive transformations of our society. "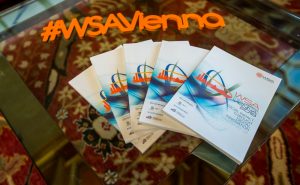 With a unique selection of inspirational keynotes, interactive workshops and the showcasing of 45 best practice examples on digital innovation with social impact, the WSA Global Congress once more turned out to be a networking and learning experience of a different kind. Please find the full conference program and catalogue here.
THE WSA GLOBAL CONGRESS 2018 VIENNA FEATURED THE FOLLOWING FORMATS:
Welcome Reception at the Wien Museum
Site-Visit to the Social City Vienna
Pitch Perfect Training for Winners
WSA Global Experts Reunion
Innovation Shots and Inspiration Talks by international and local speakers
Panel Discussions
SDG Bingo
WSA Innovation Pitches by WSA Winners
World-Cafe Session
1:1 Mentoring Session between social entrepreneurs and international mentors
Business Matching Hackathon
Interactive Hands-On Workshops and Skills Training
WSA Luncheon @ the United Nations Vienna
Vienna Sightseeing Tour
WSA Award Ceremony and Gala
Sachi Wickramage, WSA national expert from Australia and COO of i4Tradies: "During this summit, the best problem solvers from around the world gather under one roof and take part in interactive knowledge sharing sessions, smart discussion forums and various networking events. Eminent speakers take the stage and disseminate knowledge across various fields of expertise, providing thought-provoking inspiration to all attendees. WSA always treats everyone like family. By just participating in the WSA, one learns and grows more within few days that would have in months."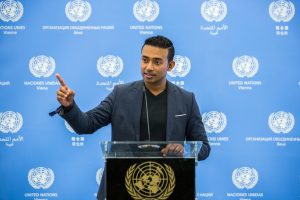 PROGRAM HIGHLIGHTS
WSA GLOBAL CONGRESS WELCOME RECEPTION @ WIEN MUSEUM
The WSA Global Congress opening for the international delegates from over 80 countries was organized in partnership with the Wien Museum. To provide the international WSA network with the right context of the city of Vienna.
The Wien Museum kindly offered to open their museum and the Otto Wagner exhibition exclusively for the WSA delegation.
WSA national experts from over 60 countries joined together in Vienna to discuss the local pre-selections and the digital developments in their regions. WSA national expert Dritan Mezini commented:"WSA Global Congress was such a wonderful, successful event. My remaining impression is that WSA is like a big family. This is a great asset to take WSA further."
A special highlight of the WSA Global Congress is the Business Matching Hackathon on March 22, 2018. WSA partners Atos, GIZ, Erste Bank, Telekom Austria Group, FFG, Wiener Stadtwerke will be presenting their challenges to hackathon participants in order to obtain solutions from international and national social entrepreneurs.
JOSEF UMDASCH RESEARCH PRIZE & UMDASCH CLUBBING
On occasion of the 150th company anniversary of Umdasch Group, WSA and Umdasch Group developed a partnership to enable a sustain-able partnership between innovative tech start-ups and the Umdasch Group. All WSA nominees from the last 4 award years were invited to submit an innovative concept for 3 challenges addressed by the companies of Umdasch Group.
The idea is to work with experienced and creative teams and invite them to come up with new ideas or modified version of their already existing products for specific challenges of Umdasch Group. A specially assembled Jury selected three winners during the WSA Global Congress.
Dr. Andreas Ludwig explained: "In each case the winner can look forward to receiving an order to implement their proposal. The Josef Umdasch Research Prize 2018 is thus not just a spark of light in the form of an award, but it will become an integral part of our business which focuses on new technologies and methods in all areas within our group of companies."
The cooperation with the WSA was a logical one for the Umdasch Group, "because the WSA has access to precisely those companies which we have not only had our eye on as a target group for the tasks in hand, but also with an view to the sustainability of the entire group: young, ambitious start-ups with unconventional digital ideas and technological innovations."
The WSA Innovation Shot Speakers rocked the audiences mind set with their insights, expertise and learnings, the workshop leaders tought the participants how to create new skill sets, and the inspirationional performers didn't let anyone leave the room without new motivation and ideas.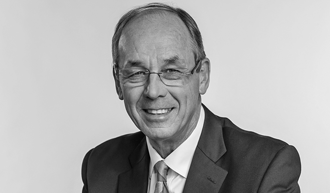 FIND ALL PICTURES OF WSA GLOBAL CONGRESS HERE....