WSA WINNERS 2022
TECHNOLOGY BRIDGING GAPS - The WSA top 40 of 2022 continue to respond to global challenges with the UN Sustainable Development Goals in mind
The WSA Call for Application closed with nearly 350 nominations from 79 countries. The 40 WSA Winners 2022 present digital impact innovation that drives social change, be it empowerment, inclusion or harm prevention. Through digitalization, help lines and different apps and platforms offer new opportunities, knowledge and safety to those who need it the most.
With a diverse range of topics, the winners provide solutions to global issues in different areas of life. They range from an accessibility platform powered by people with disabilities, fully autonomous VR therapy that aims to make therapy more available to all, motorcycles with swappable batteries to reduce pollution and fight climate change to a flood simulation tool and platforms created for increasing civic advocacy. The 40 winners show how innovation, determination and the desire to see positive change impact lives all around the globe.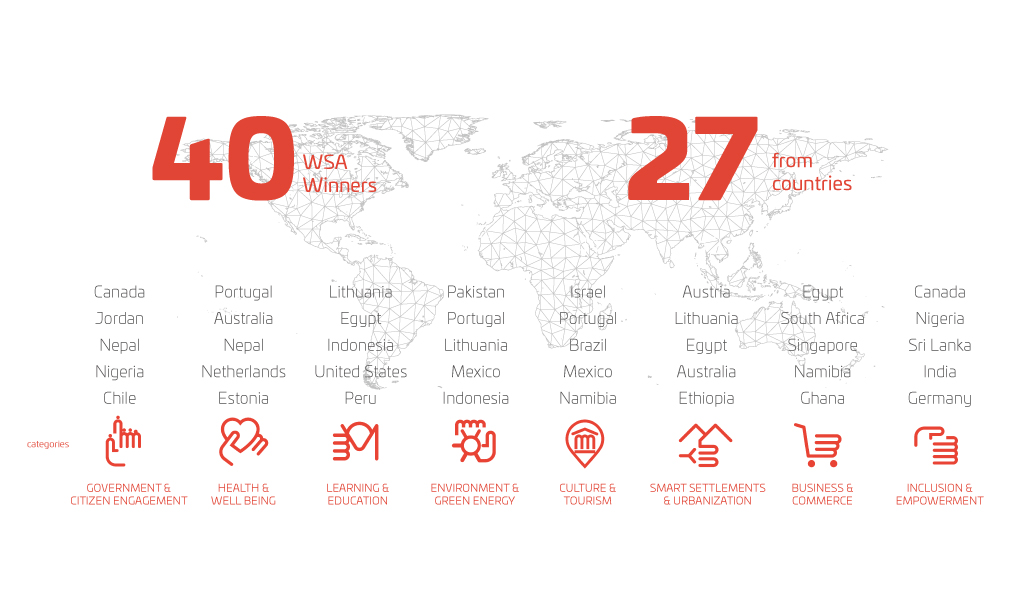 The final jury phase concluded in a four day Grand Jury Meeting of 20 international high-level experts in Jakarta, Indonesia, where the most convincing solutions were decided through a democratic and transparent process.
The WSA Winners 2022 will present their innovations at the The WSA Global Congress 2023. The Congress will gather social entrepreneurs, ICT experts and policy makers, young changemakers and digital problem solvers from all around the world to discuss and share how ICTs and interactive innovations can have a positive and sustainable impact on society.