WSA 2023. Nominations through national experts
What is WSA?
WSA (World Summit Awards) is a nomination based award system, inviting all UN member states to participate. WSA selects and promotes local digital innovation improving society. It is a non-monetary award system with a focus on sustainable knowledge transfer through a worldwide network. Winners gain network capital and join a global support network, instead of a one-time financial reward.

Invitation to participate - how to get nominated?
Each country has a national WSA representation – the WSA National Expert. The WSA national experts are carrying out the local pre-selection for WSA, through national contests or national Expert panel selection. To participate in WSA, you need to be nominated by a WSA National Expert as the best national digital application in one of the 8 categories.
Nominations are now invited for the World Summit Awards 2023. They are scouting for the best digital local impact solutions of global significance!
Submissions for WSA 2023 can contain all digital content with a clear impact, such as: apps, webpages, applications for wearables, kiosk installations, SMS based products, mobile and online games, and interactive productions. There is no limitation regarding the platforms or channels the projects work with. If you'd like to be nominated, please contact your National Expert in one of the 182 UN member countries.
Contact your National Expert View national contests

What is the WSA 2023 timeline?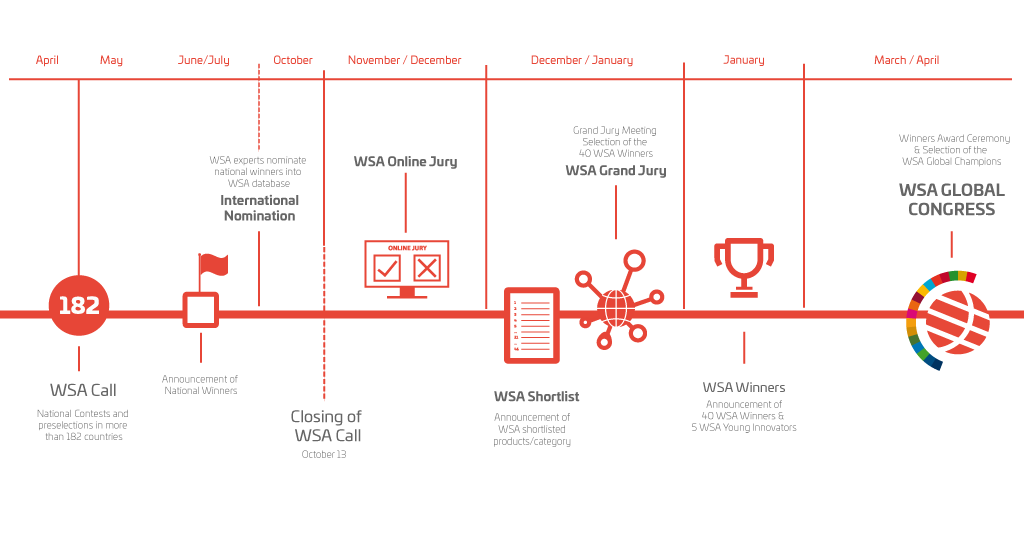 What are the award categories?
Find all categories here: https://wsa-global.org/wsa-awards/contest/categories/
What are the rules?
The call for nominations is open from now to October 13, 2023. Please read the rules & conditions, before applying.
How do I benefit?
The World Summit Awards are a non-monetary award system with a focus on sustainable knowledge transfer through a worldwide network. This means that winners benefit not from a one time financial reward, but a lifelong partnership and integration.
By participating in the World Summit Awards, nominated teams and social entrepreneurs  gain recognition for their outstanding achievements and become part of a global learning community of exceptional innovators. Connect4Impact with like-minded individuals, access mentorship opportunities, and foster collaborations that can amplify the impact of creative digitalsolutions. ​