JOSEF UMDASCH RESEARCH PRIZE 2023
Since 2017, WSA and Umdasch Group have joined together to find the most innovative solutions for their global companies and have continued the successful collaboration in 2023!
Impressions of the pitching process from Puebla, Mexico:
Find out more:  www.umdaschgroup.com/researchprize
The 2023 Umdasch Group Ventures CALL FOR IDEAS focused on the topic:
Sustainable Solutions for the Building Lifecycle
The world population is projected to reach 9.8 billion in 2050. The need for affordable housing and infrastructure in terms of transportation, energy, drinking water, and waste management is increasing tremendously. The building sector will play a key role here.
But the building industry is also a large contributor to negative environmental impacts and climate change: exploitation and consumption of resources with half being non-renewable, energy consumption, air and water pollution, and waste.
Therefore, innovative and new solutions are needed to solve these challenges and transform the lifecycle of a building project into a sustainable one.
The call for ideas was open until 5 March 2023. Terms & Conditions here.
More about the call for ideas and timeline: www.umdaschgroup.com/researchprize
FINALISTS 2023
So, what kind of solutions were required?
Your idea is particularly relevant if it falls into one of these areas:
Sustainable building materials
Sustainable building technologies
Renovation of buildings
Affordable housing
Greening of buildings
Circular economy in construction
Recycling of building materials
Green and smart city technologies
Resource efficiency in the building process
Sustainable space planning
Minus/zero carbon footprint in the building lifecycle
Convincingly present tangible benefits and give us more details about the stage of your idea/solution.
About Umdasch Group Ventures
Umdasch Group Ventures is the technology driver within the Umdasch Group, developing new, disruptive solutions and business models. The company invests in mature start-ups and young enterprises that provide potentially disruptive business models and/or unique technologies/services in the fields of construction and retail. The aim of the innovation hub is to continue developing their own ready-to-market business models and portfolio of strategic investments, to establish these on the market and drive market growth.
www.umdaschgroup-ventures.com
WINNER 2022
Samson Logic from Israel impresses with its technological solution
With the Josef Umdasch Research Prize 2022 Doka was looking for new impulses and creative approaches for the digital construction site. Samson Logic convinced the jury most impressively.
The young company has developed an intelligent management platform for construction materials. This involves, for example, packaging with integrated IoT sensor technology, software that automatically derives packaging instructions from orders and manages all material inventory on the construction site. Samson Logic's solutions save crane and labor time, optimize storage space, reduce material waste and increase safety.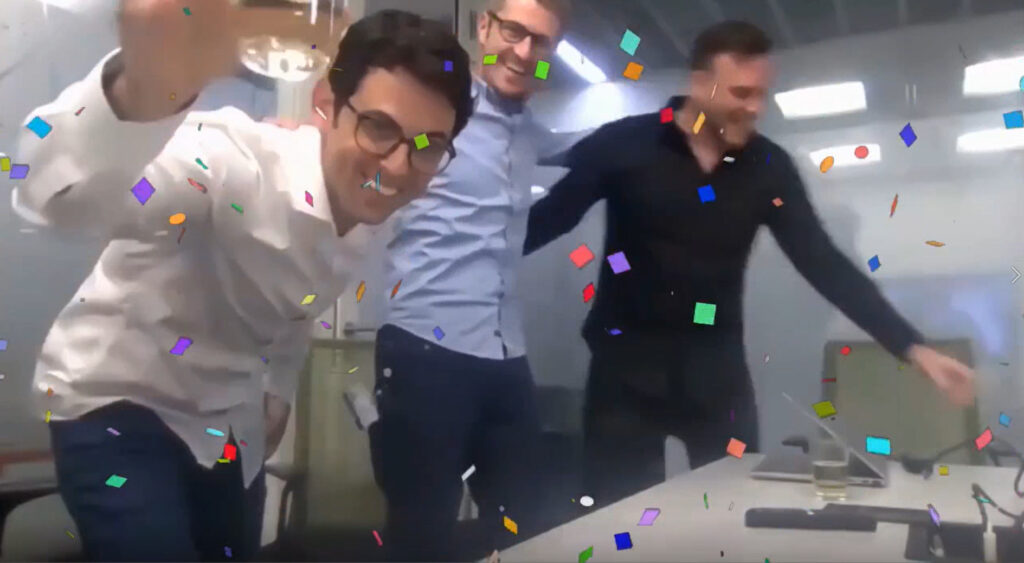 GLOBAL CHAMPION 2021
Romanian start-up SecurifAI impresses with its technological solution
The team around co-founder and CTO Radu Ionescu has developed a software that is able to detect abnormalities via camera. The start-up impressed the experts with its exceptionally advanced technology (Deep Learning).
The Romanian team also earned points by capturing the jury's imagination with regard to the wide range of possible applications for the companies of Umdasch Group. For example, the software recognises whether everyone on a construction site is wearing a helmet and safety equipment.
Since 2017, WSA and Umdasch Group have joined together to find the most innovative solutions for their global companies. The winners of past years are currently working with the companies on the realisation of their prize-winning ideas.
WSA and Umdasch Group have continued the successful collaboration in 2021. The Umdasch Group subsidiary Umdasch Group Ventures – the youngest of the three subsidiaries – was looking for innovative ideas, disruptive technologies or new use cases for artificial intelligence or computer vision. Submissions addressed brick and mortar retail, construction and the building life cycle.