WSA MOBILE GLOBAL CONGRESS 2013 ABU DHABI
Abu Dhabi Turns Into Global Hub for Mobile Excellence
World´s best mobile developers gather in Abu Dhabi to present their innovation on the global stage – Feb 3rd-5th 2013
Abu Dhabi hosted the best producers, developers and designers for mobile content in Feb 2013. The Abu Dhabi Systems & Information Center (ADSIC) signed an Agreement of Cooperation with the World Summit Award (WSA) to bring the world's best to Abu Dhabi.
"With more than 6 billion mobile connections, content and value added applications become central to a modern functioning of the economy and the transformation in the knowledge society. The World Summit Award demonstrates the importance on the global level of the United Nations of closing the content gap and narrowing digital divides by promoting best practice in mobile content creation. Abu Dhabi is leading the way with its hosting of the Winners of the WSA-mobile Award Conference and Gala", said Prof. Peter A.Bruck.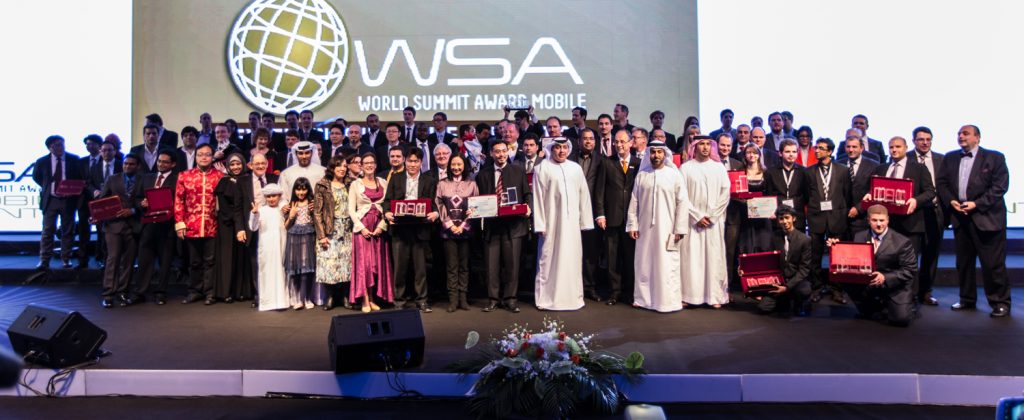 The conference program included panels, keynote-sessions and hands-on work-shops about multiscreen marketing, mobile game design and mobile learning. Renowned experts such as US star-author Janine Warner, mobile visionary Tomi Ahonen and Angry Birds co-creator Harri Koponen were among the speakers. Furthermore, high ranking representatives of the Abu Dhabi government and the United Nations attendes the congress, which took place in Jumeirah hotel at the Etihad towers.
To showcase the huge potential of mobile content, 40 outstanding app developers from all over the world presented their products to the congress participants. Applications for Alzheimer patients and Diabetes self-care was presented as well as mobile banking services and augmented reality apps. Five from out of the 40 app producers were awarded WSA-mobile global champions 2013.
Check out the Best of video of WSA Global Congress 2013 Abu Dhabi
THE WSA GLOBAL CONGRESS KEYNOTES:
Tomi Ahonen, Mobile visionary and author, consultant and motivational speaker, Hong Kong / Singapore
Harri Koponen, COO Rovio, Finland
Gary Schwartz, President & CEO, Impact Mobile, Canada
Ralph Simon, Chairman Emeritus & Founder, Mobile Entertainment Forum-Americas, UK
Jari Tammisto, President, Mobile Monday, Finland
Janine Warner, Media Executive, Creator of DigitalFamily.com, USA
Harri Koponen, COO Rovio: "What would you recommed to the startups in the game industry?"

WSA-mobile Report on Activities 2011-2013