The 2022 WSA Grand Jury Meeting in Jakarta
Indonesia, consisting of more than 17,000 islands, is the largest country in Southeast Asia, offering gorgeous hospitality, scenic surroundings, and a lively startup scene. The capital Jakarta offered the perfect location for the 2022 WSA Grand Jury Meeting, with a mission to evaluate digital purpose-driven ventures with local impact, and tackle pressing challenges such as climate change, waste problems, overbearing traffic and land loss.

"The challenges we are facing in Indonesia and globally will worsen if we don't invest more in ICT and computerization. We need to get smarter with technology to become not only more sustainable, but also to ensure our survival. This can only happen through knowledge sharing and international cooperation."
Peter A. Bruck, Chair of WSA
Supported by WSA's partners in Jakarta (GIZ's Digital Transformation Centers, Bubu.com, StartUp Indonesia) and the European Commission's CERV program, the Grand Jury could meet again in-person for the first time after two years of online meetings. The Sustainable Development Goals and the action plan of the World Summit on the Information Society (UN WSIS) provided the background for decision-making by WSA Jurors. Ready for some numbers?

35 calls with Indonesian partners were made ahead of the get-together, 26 people chatted in a very busy WhatsApp group, 60 chocolates were WSA-branded (and eaten!), 300 pictures taken, 76 Zoom calls with potential winners matched seemingly easy, 8 microphones needed. All this and more to choose 40 winners from 29 countries in 24 hours of jury communication and decision.
Sunday evening was the perfect time for a first, informal get-together in the hotel lobby.
Monday, October 17, started with inspiring words of welcome from WSA Chair Peter A. Bruck, WSA National Expert and CEO of bubu.com Shinta Dhanuwardoyo, Minister Sandiaga Uno and Jonas Herzing from the GIZ before beginning discussions and voting in the first category "Learning & Education". Three more categories were presented, discussed, and decided – "Government & Citizen Engagement", "Health & Well Being" and "Culture & Tourism".

Tuesday, October 18 saw discussions and evaluations of "Inclusion & Empowerment", "Smart Settlements & Urbanization", "Environment & Green Energy", as well as "Business & Commerce". To break the busy schedule and open it up to partners and startups in Indonesia, the DTC Indonesia hosted a casual luncheon. WSA Grand Jury members, GIZ team members, partners and Indonesian startups got together in a congenial atmosphere to exchange ideas.
GIZ invited several green-tech startups to present their solutions, namely plepah, swap, Ailesh Power and Siklus Refill. Jury members also got the chance to meet several support programs for startups in Indonesia: Enviu, Instellar, New Energy Nexus.
After making the last decisions in the Grand Jury meeting, the group was invited by the Austrian Ambassador to Indonesia. Dr. Thomas Loidl welcomed Grand Jury members warmly, emphasizing the importance of a worldwide network to support the Sustainable Development Goals. As a note of interest, the Austrian Embassy building, reopened in 2011, is the first passive energy house in Indonesia and the first truly green embassy worldwide!
Day 3 started with a cultural experience – WSA's Indonesian partner Shinta Dhanuwardoyo organized a visit to Gobang Jakarta, the extraordinary batik shop of Ethys Mayoshi, as well as to the National Monument. At Gobang Jakarta the Grand Jury members were not only welcomed by traditional dancers and had the possibility to try to batik themselves, but they also got the chance to dance with the owner to some karaoke tunes sung by the military chief. What a great start to the day!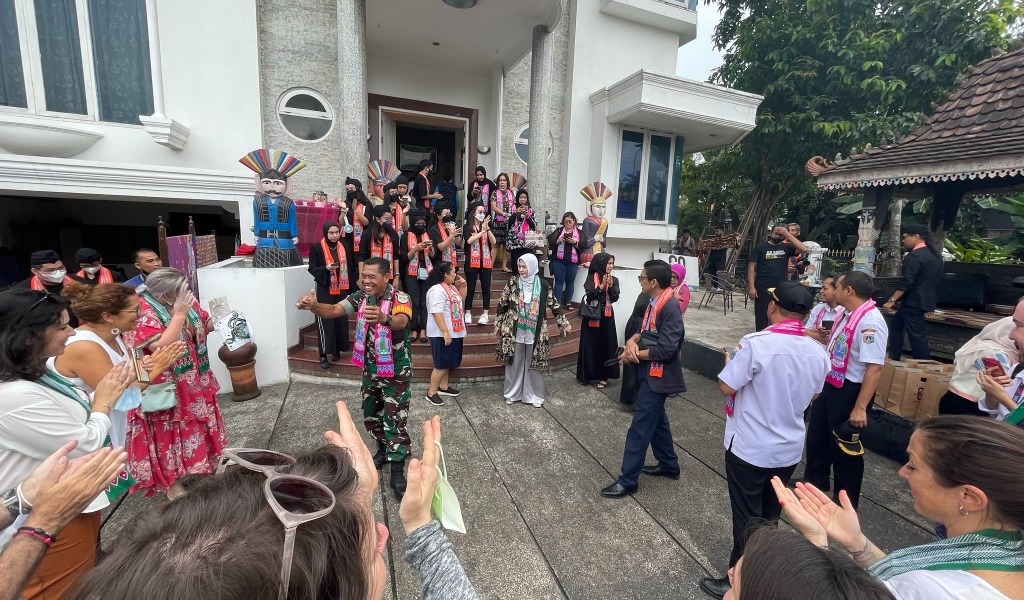 After learning about Indonesian colonial times and independence after World War II and a great Indonesian lunch, the WSA Grand Jury was invited to the Ministry of Tourism and Creative Economy by Minister Sandiaga Uno. The Tech4Impact event, hosted by the Ministry of Tourism and Creative Economy, started with opening words by Shinta Dhanuwardoyo, WSA Chair Peter A. Bruck and a keynote by the Honourable Minister Sandiaga Uno. The Trinity Youth Symphony Orchestra rounded out the start.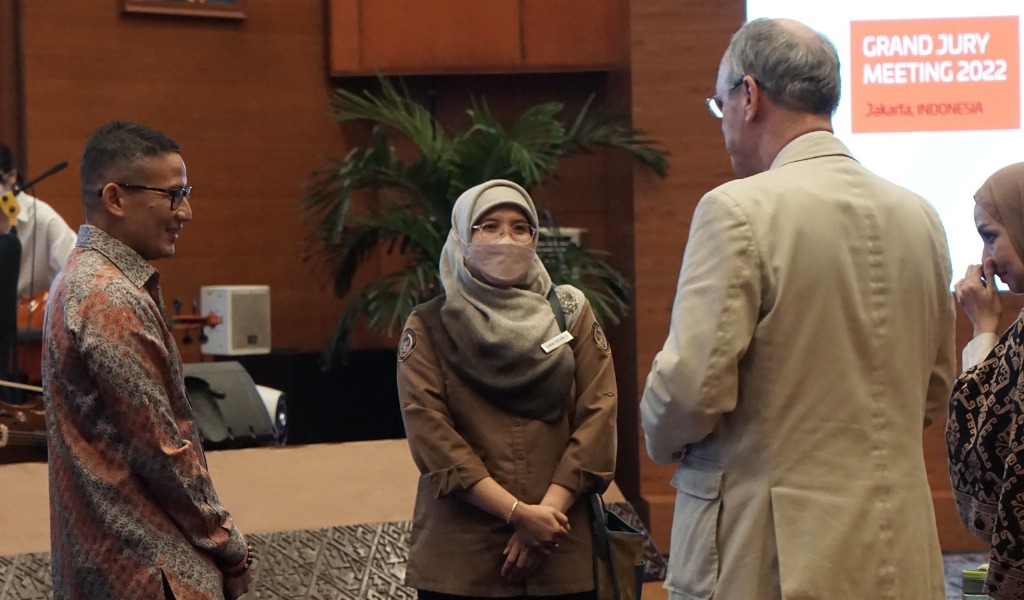 In a round of talks on the topic of "Startup eco-system perspectives and purpose-driven entrepreneurship" Peter A. Bruck moderated the session with inputs from Ilham Habibie, Head of Research of Technology, Chamber of Commerce (Indonesia) and Grand Jury members Carolina Rossi (Chile), Wiem Chamsi (Tunisia), Liisi Org (Estonia) and Madelynn Martiniere (USA, France).
"Creating a business model can also mean appealing to the desires of people."
Ilham Habibie

The afternoon was closed with pitches by 6 Indonesian startups nominated for the WSA to get feedback from the WSA Grand Jury.
"With the Tech4Impact event, we want to bring together Indonesian startups and international WSA judges to help young founders see the world through judges' eyes and receive useful input on how to improve their startup."
Shinta Dhanuwardoyo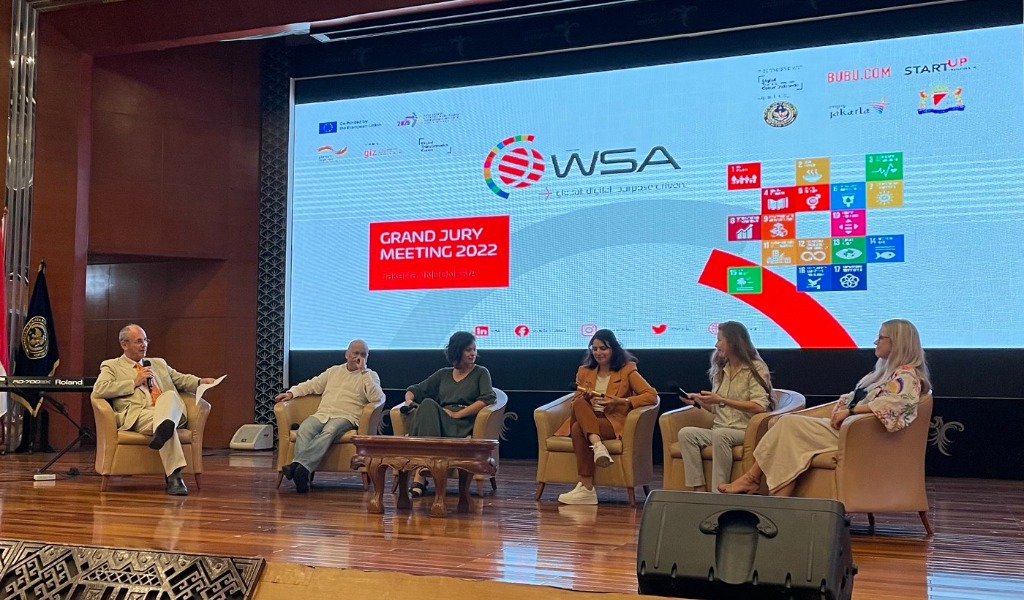 Thursday, October 20, was a day to travel for many jurors, but some stayed to talk about the future of WSA. In the NextGen workshop, Grand Jury members dove into an intensive exchange with the younger generation from the start … to take WSA into the next decade.
"I am very proud of how we came to be where we are through the years – content is still our strong point, and we are a strong ally for those looking to team up with us. The richness of people's background is where our strength lies. I am happy to see the knowledge dividend growing."
Manar AlHashash